A Creative Excuse #4: Erin & Nina Elder
4/22/2019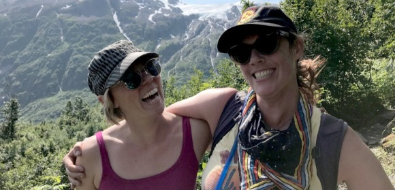 Erin Elder is an independent curator of contemporary art guided by interests in land use, experimental collaboration, and non-traditional modes of expression. Her research-driven projects take highly participatory forms, working with a broad definition of art to bring audiences into a direct experience of particular places. Erin also operates Gibbous, a consulting service that supports committed artists at pivotal moments in their careers.
Learn more at erinelder.com and gibbouscreative.net
Nina Elder is an artist, adventurer, and arts administrator. Her work focuses on changing cultures and ecologies. Through extensive travel and research, resulting in meticulous drawings and interdisciplinary creative projects, Nina promotes curiosity, exploration, and a collective sense of stewardship. Nina advocates for collaboration, often fostering relationships between institutions, artists, scientists and diverse communities. She is the co-founder of the Wheelhouse Institute, a women's climate leadership initiative. Nina lectures as a visiting artist/scholar at universities, develops publicly engaged programs, and consults with organizations that seek to grow through interdisciplinary programing.

Learn more at ninaelder.com